A Live Action Hunchback Of Notre Dame Is Happening, Because Of Course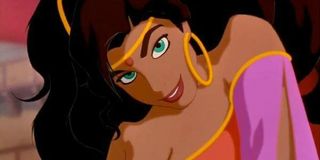 Live action remakes of favorite animated movies are all the rage these days, so it makes sense that yet another formerly animated film is getting a reboot. This time, though, the new movie will remind you of a film that's gotten little love since it was originally released.
According to The Tracking Board, a live action update of Victor Hugo's 1831 novel The Hunchback of Notre Dame is being planned. I say it's based on the novel, because Disney is not actually involved in this production. The film, Esmeralda will tell the story from her point of view.
This was most famously adapted for the screen in the 1996 Disney film of the same name. In the book and the animated movie, Esmeralda is a beautiful and compassionate Gypsy street performer who is beloved by the townsfolk. Esmeralda comes to the aid of Quasimodo after he is flogged by bringing him water. Quasimodo instantly falls in love with her, since the hunchback has had very little in the way of kindness in his life.
The problem, of course, is that quite a few men in town have their eye on Esmeralda, and she, in turn, is in love with someone else. This is where the Disney cartoon differs a bit from the novel, and it's a good thing it does, because the rest of the story is super murdery and tragic. Honestly, it's a downer of epic proportions that would have never been fit for animated, G-rated loving audiences.
Somehow, even with critical and audience success, the movie has not gone on to experience the lasting admiration of other Disney favorites. Several live action remakes of their films, and movies that focus on one character from some of their animated works, have either already been in theaters or are in some stage of production right now. We've already seen Maleficent and Cinderella, and there are live action versions of Beauty and the Beast, Pinnochio, The Little Mermaid, Dumbo and The Jungle Book currently being put together. There are also plans for movies that focus on Genie from Aladdin and Cruella De Vil from 101 Dalmations.
There's no word yet on how dark this version of The Hunchback of Notre Dame will go, but something tells me it won't get much darker than the cartoon. The filmmakers will want to get as broad of an audience involved as possible, because people do remember the animated version, and if they make a film that can appeal to kids and their parents (who may have seen that Disney movie as children), that would likely be the best way to do it.
Either way, Esmeralda is widely considered to be the emotional heart of the story, so it will be nice to see the tale told from her perspective. And, between all the drama and plot twists that were in the original story and the Disney film, I doubt they will lack inspiration for this new version of the saga.
Yennefer's apprentice, Gilmore Girl; will Vulcan nerve pinch pretty much anyone if prompted with cheese...Yes, even Jamie Fraser.
Your Daily Blend of Entertainment News
Thank you for signing up to CinemaBlend. You will receive a verification email shortly.
There was a problem. Please refresh the page and try again.