This Week In Home Entertainment: Wish I Was Here, Begin Again And More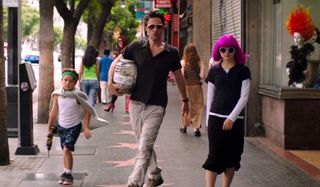 Most of this summer's big blockbusters have already been released on Blu-ray and DVD, leaving room for some quieter movies this week. Quiet doesn't necessarily equate to impactful, however. There are plenty of reasons to catch this weeks releases. Check 'em out, below.
Wish I Was Here Blu-ray
It's difficult to sum up Wish I Was Here in one sentence. The movie is about family and careers, death and dying, dealing with children at various phases in their lives and combating personal and professional malaise. It's also about a man, and the choices he has made during his lifetime that lead us to the very point Wish I Was Here starts at.
It's not a particularly pleasant beginning. Zach Braff returns for his first directorial endeavor in 10 years with a story about a father who is stuck in a rut. Aiden's (Braff) a mostly out of work actor who struggles to pay his children's school bills despite having a patient advocate in his working wife, Sarah (Kate Hudson). Things aren't looking good with his extended family, either. His brother, Noah (Josh Gad), is a beach bum who spends most of his time creating an elaborate Comic-Con costume and who has some major beef with his father, Gabe (Mandy Patinkin). His father's a cutting individual that caused some problems in the family years ago and still makes callous remarks. Did I mention he's dying? Yeah, it's a real feel good movie, this one.
Wish I Was Here tells a story that may resonate with many people who have been chasing a dream in the big city for as long as they can remember. Just like Braff's Garden State, it's full of wit and interesting dialogue. There's emotionality, too, present in a great scene between Patinkin and Hudson and in quite epiphanies from Braff's character. However, it mostly ambles along at a comfortable pace without really making a statement. It's a perfectly acceptable watch that comes with plenty of extras from Universal Studios Home Entertainment, but despite the perks, it may not be one you need to own.
You can order Wish I Was Here over at Amazon.
Best Special Feature: The deleted scenes are probably the best extras on the disc. There are 13 of them (which includes a couple of alternate scenes). This probably means Wish I Was Here was overworked, but it also means the scenes actually stand on their own pretty well. There's a whole portion of scenes featuring graffiti walls that had to be cut due to problems with how the scenes came off. Additionally, we find out what happens with Grace (Joey King) and the pool party she was hoping to go to. In addition to the deleted scenes, it also outtakes form the amusing Astin Martin dealership scene that spotlight Scrubs actor Donald Faison's brief appearance in the movie.
Other Extras:
"Directing While Acting"
"Aston Martin Dealership Outtakes"
Feature Commentary with Zach Braff and Adam Braff
Feature Commentary With Zach Braff, Director of Photography Lawrence Sher and Editor Myron Kerstein
Begin Again Blu-ray
Director John Carney has a knack for tying human emotions in with musical emotions and for framing larger stories around musical moments. He did it with Once and he's done it a second time with Begin Again, a story of a musician and a producer who cross paths one night and begin collaborating on a project that will change their lives in unlikely ways.
Of course, Begin Again would either be absolutely dreadful or simply a musical documentary if it were all about two people working together in a makeshift studio. Instead, Begin Again is also about Dan (Mark Ruffalo) and Gretta (Keira Knightley)'s personal stories. The former is a struggling producer with a marriage in shambles, who also happens to want to connect to his teenaged daughter Violet (Hailee Steinfeld). For her part, Gretta is attempting to get over a transcontinental move and the break-up of her long-term boyfriend, Dave (Adam Levine). Neither of these personal stories are particularly nuanced, but they do serve to provide emotional honesty and add to the story arc throughout the film.
The movie is a little sanguine at turns and a little bit too idealistic at others, but for a small flick premiering at the 2013 Toronto International Film Festival, Begin Again has legs. And Keira Knightley isn't the worst singer ever, either.
You can order Begin Again over at Amazon.
Special Features: The Begin Again set is a small release from Anchor Bay Home Entertainment. The set is pretty standard, with a menu page that focuses on a few key moments and a small selection of bonus features. The "Making of" featurette offers the bulk of information related to the film. It's a lot of the cast and crew talking about "how great" filming the movie was, but if you can get past that, there are endearing moments, too, including how Adam Levine got nervous acting with a cast of big names and how Hailee Steinfeld was displeased about her scanty wardrobe at the beginning of the movie. Give it a watch, and stick around for the four music videos that are also available on the disc. Anchor Bay pulled a note from Disney and made them sing-a-longs, which is pretty useful.
Other October 28 Releases
The Prince
The Complete Jacques Tati
America: Imagine The World Without Her
Life of Crime
Grace: The Possession
Good People
Amazing Race & Top Chef superfan with a pinch of Disney fairy dust thrown in. If you've created a rom-com I've probably watched it.