Khloe Kardashian Is Pregnant With Her First Child With Tristan Thompson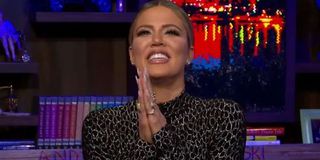 It appears congratulations are in order for yet another member of the Kardashian-Jenner crew. Khloé Kardashian and Tristan Thompson are about to become parents. Reportedly, the 33-year-old reality television star and her 26-year-old Cleveland Cavaliers player boyfriend are expecting their first child together---the first for Kardashian and the second for Thompson. Apparently, Kardashian is about three months pregnant.
Earlier this year, Khloé Kardashian gushed about her budding relationship with Tristan Thompson and said that she would marry him if he popped the question. Kardashian also indicated that she loved Thompson's young son, Prince, and she liked maneuvering into her job as a role model in his life. Furthermore, the Revenge Body celebrity also told reporters she was becoming anxious to start a family because she wanted to become the matriarch of a big family much like her mom, Kris Jenner. Therefore, the news that Kardashian and her Canadian sweetheart are having a baby is not necessarily a huge shock, but it is super exciting for her fans.
According to Daily Mail, Khloé Kardashian and Tristan Thompson conceived naturally, which might sound a little bit TMI. However, the Keeping Up with the Kardashians cameras documented Kardashian's journey to pregnancy over the years. They captured some of her visits to the gestational doctor's office in Beverly Hills when she was married to her former NBA player ex-husband, Lamar Odom. However, Kardashian revealed on the show this year that she had not tried in earnest to become pregnant with a child by Odom because she recognized that the marriage was going to end.
The news that Khloé Kardashian and Tristan Thompson are expecting a child arrives the same week that reports surfaced about Kylie Jenner and her rapper boyfriend, Travis Scott, expecting their firstborn daughter. Furthermore, Khloé Kardashian and Thompson's child will have another cousin, as Kim Kardashian and Kanye West are preparing for their third child via a surrogate who reportedly will give birth sometime early next year. Therefore, it sounds like 2018 will be a big year for the second generation of Kardashians.
Khloé Kardashian and Tristan Thompson began dating this year following her divorce from Lamar Odom. In between the divorce and the new relationship, Khloé Kardashian briefly dated NBA player James Harden. (Think she has a thing for professional basketball players?) Here is a photo of Khloé Kardashian and Tristan Thompson from his Instagram around the time when they first started getting serious:
Recently, Khloé Kardashian said she and Thompson hit it off in part because they share similar values. Kardashian also hinted that it takes a special kind of guy to be able to handle the whirlwind lifestyle that comes with dating her, and she said Thompson seemed okay with it because he already is a superstar thanks to the NBA.
So, it will be fun to see Khloé Kardashian during her pregnancy journey. In fact, it will be neat to see her pregnant at the same time that Kylie Jenner is pregnant and Kim Kardashian is getting ready to welcome a child via surrogacy. Honestly, following the three pregnancies would make a cool KUWTK spinoff.