Child 44 And The Vatican Tapes Find 2015 Release Dates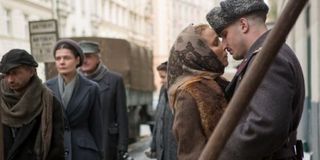 We're halfway through 2014, which means that the 2015 movie schedule is about to be finalized. The big blockbusters have already been announced, some years in advance. But there are loads of smaller, medium-sized films that are locating a spot on the schedule, waiting to reach audience-goers. Two of them are The Vatican Tapes and Child 44, both with a considerable pedigree, both which have been in the works for quite some time.
Lionsgate has announced that Child 44 will bow on April 17th, 2015. This thriller from Daniel Espinosa (Safe House) concerns a police officer in Stalinist Russia who becomes wrapped up in a missing children case where no one seems to be asking the right questions. Based on the British novel by Tom Rob Smith, the film's got a loaded pedigree, including Tom Hardy, Noomi Rapace (also starring with Hardy in the upcoming The Drop), Espinosa's Snabba Cash star Joel Kinnaman, Vincent Cassel and a mini-Dawn Of The Planet Of The Apes reunion with Gary Oldman and Jason Clarke.
Child 44 looks like it will be the choice for mature adult audiences that day. For everyone else, there's Paul Blart: Mall Cop 2. Also opening that day is another Disney nature doc, Monkey Kingdom. And finally, there's something of an oddity, the Tarsem-directed sci-fi film Selfless starring Ryan Reynolds. Tarsem's always got something interesting in store visually, so honestly that's one of the last 2015 films that we're excited about, but know NOTHING about.
Meanwhile, The Vatican Tapes will hit theaters a little sooner, specifically on February 27th, 2015, according to director Mark Neveldine.
The Vatican Tapes opens on a pretty crowded date, particularly against the Will Smith dramedy Focus. Also opening that date is
[[ i.hitman ]] <="" agent="" i="">, a relaunching of the Hitman franchise. Young men are not being under-served that day. Oh, and you thought Child 44 is the only film that needs to beat back some Kevin James Black Magic? The Vatican Tapes also opens up against Little Boy, a Kevin James drama (!) about a boy trying to bring his father back from World War II. The former King Of Queens star will be sharing the screen with Emily Watson, Tom Wilkinson, Cary-Hiroyuki Tagawa, Ben Chaplin and Ted Levine, and we swear this is a real movie that exists.
Your Daily Blend of Entertainment News