Same Director, Similar Concept, Two Very Different End Results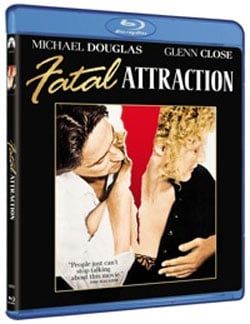 Get ready for a double does of infidelity and Adrian Lyne. On June 9th, Paramount Entertainment will release Fatal Attraction and Indecent Proposal on Blu-ray. While both films may have been created by the same director and were both box office successes, the recognition they received was very different.
Fatal Attraction is Lyne's 1987 thriller starring Michael Douglas, Glenn Close and Anne Archer. Not only was it the second highest grossing film of the year, but it was also nominated for six Academy Awards including Best Picture. Daniel Gallagher (Douglas) has I made. He's a successful New York attorney and loves his wife Beth (Archer). His perfect existence is tainted when Beth takes their daughter away for the weekend and Dan has an affair with a publishing company editor, Alex Forrest (Close). Dan is aware of the terrible mistake he made and explains to Alex that he has to go home to his family. He thinks he's brushed the issue under the rug, but Alex refuses to let him forget her and will do whatever it takes not to be ignored.
I guess you now know which of the two films received the more prestigious honors. While Fatal Attraction racked up the Oscar nominations, the Lyne's 1993 drama Indecent Proposal collected three Razzies including Worst Picture. But bad reviews didn't stop this Woody Harrelson, Demi Moore and Robert Redford flick from winning big at the box office. Harrelson and Moore play David and Diana Murphy, a happy couple who have been together since high school. After losing all their savings in Las Vegas they meet billionaire John Gage (Redford) who offers them one million dollars for Diana to spend one night with him. What was meant to be a quick deal turns into a lingering feeling of insecurity David develops about his relationship
Both BDs cost $39.99, so, odds are, you won't want to buy both. It's obvious the one that's worth your money is Fatal Attraction. Not only will you get an excellent film but four special features as well. There's commentary by director Adrian Lyne, "Forever Fatal: Remembering Fatal Attraction - Cast & Crew Interviews," "Social Attraction - The Cultural Phenomenon of Fatal Attraction " and an alternate ending with an introduction by Lyne. If you prefer plastic raspberries to golden Oscars, Incident Proposal comes with some commentary by Lyne in addition to the movie.
Staff Writer for CinemaBlend.
Your Daily Blend of Entertainment News
Thank you for signing up to CinemaBlend. You will receive a verification email shortly.
There was a problem. Please refresh the page and try again.