Taraji P. Henson, But No Mr. Benjamin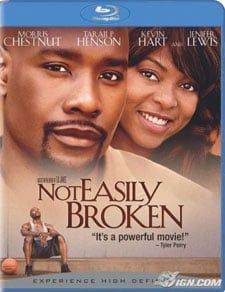 Maintaining a relationship is never an easy thing. See what happens to the bond between Dave and Clarice Johnson when Sony Pictures Home Entertainment releases Not Easily Broken on DVD and Blu-ray April 7th.
The film, based on the novel by T.D. Jakes, focuses on what happens when a couple reaches the breaking point in their marriage. Clarice (Taraji P. Henson) is crippled by a car accident and her husband Dave (Morris Chestnut) develops a relationship with her physical therapist. Physical temptations and emotional challenges test the vow they made to love each other forever.
With Taraji P. Henson's recent success, it's hard to pass this one up. Many adored her Academy Award nominated performance in The Curious Case of Benjamin Button and are dying to see her bring such likeability to another role. The plot seems rather interesting. People generally like to see other relationships going downhill only to be mended to put their own issues in perspective and stay hopeful.
In terms of bonus material this DVD comes with what you'd expect: a making of the movie featurette and some deleted scenes. You can enjoy this romantic drama for $28.95 on DVD or $39.95 on Blu-Ray.
Staff Writer for CinemaBlend.
Your Daily Blend of Entertainment News
Thank you for signing up to CinemaBlend. You will receive a verification email shortly.
There was a problem. Please refresh the page and try again.