Sicko Re-Released This Weekend - Updated!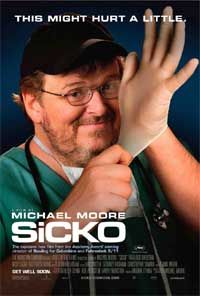 If you missed Michael Moore's new movie Sicko this summer, you didn't just miss one of the year's best and simultaneously most important movies, you missed a phenomenon. Sicko is now the third highest grossing documentary of all time, right behind March of the Penguins and Moore's own Fahrenheit 9/11.
It's out of theaters now, but you're about to get a second chance to see it. The Weinstein Company is re-releasing Sicko in theaters this weekend, in an attempt to wake all of you up to just how screwed our healthcare system is, oh and they wouldn't mind making a little more money in the process. It's time somebody took those bastard penguins down.
Yep, Sicko takes another bow in theaters this Friday, September 28th. No word yet on how wide the movie's release will be, but we've been told it's hitting at least three theaters in Texas. One in the Dallas suburbs, one in San Antonio, and another in Houston. Odds are if you're in or near a major city, it may show up on your doorstep as well.
If you haven't seen it, this is your chance to seek it out. If you hate Michael Moore and think his movie has nothing to offer you, then read this. Don't miss Sicko.
Update! Full list of re-release theaters below:
Edgewater Cinema 10 Panama City Beach, FL
Galaxy Cinema Fun Plex Riverdale, GA
Plaza Theater Atlanta, GA
Promenade 12 Prattville, AL
Somerville Theatre Somerville, MA
Six Forks 6 Raleigh, NC
AMC Cantera 30 Warrenville, IL
AMC South Barrington 30 South Barrington, IL
AMC Grapevine Mills 30 Grapevine, TX
AMC Huebner Oaks 24 San Antonio, TX
AMC Studio 30 Houston, TX
Fox Laramie, WY
AMC Forum 30 Sterling Heights, MI
Bad Axe Theatre Bad Axe, MI
Landmark Keystone Art Cinema Indianapolis, IN
Parsons Theater Parsons, KS
AMC Ahwatukee 24 Phoenix, AZ
AMC Deer Valley 30 Phoenix, AZ
Century Gateway 12 Tucson, AZ
Kukui Grove Twin Lihue, HI
Mann Beverly Center 13 Cinemas Los Angeles, CA
Oracle View Tucson, AZ
Regal Village Square 18 Las Vegas, NV
Tempe Cinemas Tempe, AZ
Movies 10 Janesville, WI
Orpheum Theatre Madison, WI
Destin Cinema Destin, FL
Holiday Square Cinema 12 Covington, LA
Angela Triplex Coaldale, PA
Academy Theater Portland, OR
Laurelhurst Theatre Portland, OR
Admiral Theatre Seattle, WA
Landmark Crest Four Theatres 4 Seattle, WA
Rio Theatre Brewster, WA
Garberville Garberville, CA
Raven Cinema 4 Healdsburg, CA
Red Vic Movie House San Francisco, CA
Broadway Centre Theatres Salt Lake City, UT
Centre Theatre Idaho Falls, ID
Pocatello Reel Theatre Pocatello, ID
Landmark Plaza Frontenac 6 Frontenac, MO
Arlington Cinema N Drafthouse Arlington, VA