Drama And Weddings Go Hand In Hand For Rachel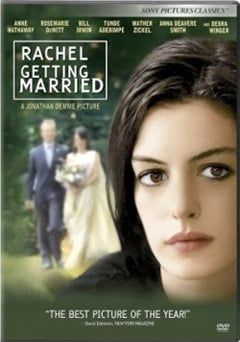 "I am Shiva the destroyer, your harbinger of doom this evening." It looks like Kym will be invading homes across the country soon, because Sony Pictures Home Entertainment is releasing Rachel Getting Married on DVD and Blu-ray March 10th.
Fresh out of rehab, Kym (Anne Hathaway) returns home for her sister Rachel's (Rosemarie Dewitt) wedding. While Rachel and her fiancé Sidney (Tunde Adebimpe) enjoy the idyllic weekend festivities, Kym harbors an immense amount of demons that emerge in forms ranging from dark one-liners to dramatic monologues. Can the sisters manage their differences and long-suppressed tensions in order to ensure Rachel has the wedding of her dreams?
The big question here is, will this be a celebratory DVD release for Hathaway? Not only do I think it could be, but that it should be as well. Her performance is very much deserving of that golden statue more so than her competitors in the category for Best Actress. Anne Hathaway brings a wonderful humor to the film that is well complimented by the film's intensely dramatic elements. The frustration in deciding whether you feel sorry for Kym or feel the need to shake some sense into her makes the character extremely engaging.
Even though the special feature selection doesn't include a gag reel, I must buy Rachel Getting Married. The film is so fantastic I'm actually interested in watching the bonus material that I would normally skip over. The DVD and Blu-ray version come with deleted scenes, a behind-the-scenes featurette, a wedding band featurette, a question and answer panel with the cast and crew and commentary by the filmmaker and cast. The Blu-ray edition is also BD-Live enabled. Let's put Bride Wars behind us and see Anne Hathaway in a role that truly portrays her acting capability. Pick up Rachel Getting Married on DVD for $28.96 or Blu-ray for $39.95.
Staff Writer for CinemaBlend.