Ender's Game Gets A Release Date, As Does Step Up 4, Red 2, And Three Others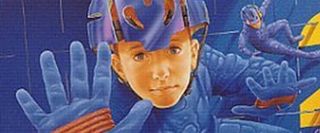 Summit Entertainment has set premiere dates for a number of projects, including the sequel to Red, another installment to the Step Up series, as well as the much anticipated (mostly by sci-fi geeks) big-screen adaptation of Orson Scott Card's Ender's Game.
BoxOfficeMojo.com posted the new dates Summit has scheduled for their upcoming films. Step Up 4 is the earliest of the newly scheduled release dates, debuting next summer (July 27, 2012). IMDB has Alyson Stoner (Step Up, Step Up 3D) and Adam G. Sevani (Step Up 2: The Streets, Step Up 3D) rumored for the leads. No plot description is listed for the film yet, but it's probably safe to expect some dance-offs.
Next up is Warm Bodies, which is described as a zombie romance, and stars Analeigh Tipton, John Malkovich, Lizzy Caplan, and Dave Franco. Summit has the the release date set for August 10, 2012. Also premiering in August of next year is Sinister, which stars Ethan Hawke, Vincent D'Onofrio, and James Ransone. Set to hit theaters on August 24, 2012, Sinister follows a journalist who finds footage that reveals horrifying clues about a murdered family.
Moving on to 2013, Now You See Me is an amusing sounding movie with a really great looking cast. The film, which will hit theaters on January 18, 2013, follows a group of illusionists who pull off bank heists during performances and pass the money along to their audience. The film will put Woody Harrelson and Jesse Eisenberg back on screen together. Joining the Zombieland stars are Mark Ruffalo, Morgan Freeman, Isla Fisher and Dave Franco.
Ender's Game, which is an adaptation of the excellent Orson Scott Card science fiction novel, will premiere March 15, 2013. Summit acquired the rights to the book back in April and with a set premiere date, we may actually be able to start looking forward to the adaptation. The book is set in the future, where mankind is at war with an alien species. The story follows a boy named Ender Wiggin, who joins a school of young, talented children who are being trained to fight the aliens by playing games against one another. That's about as much as I remember, though I'm thinking a reread is going to be necessary between now and 2013.
Finally, the sequel to the 2010 film Red is in the works. The original film starred Bruce Willis, Morgan Freeman, Helen Mirren, and John Malkovich, who played CIA agents who, due to the extensive, sensitive knowledge they had, made them prime targets for the organization they worked for. As of last June, the plan was to bring back the previous cast for the new film as well as to "freshen the cast up," so we should probably also expect to see some new faces added in.
Your Daily Blend of Entertainment News
Thank you for signing up to CinemaBlend. You will receive a verification email shortly.
There was a problem. Please refresh the page and try again.