Car 54 Where Are You? Gets A 50th Anniversary DVD Release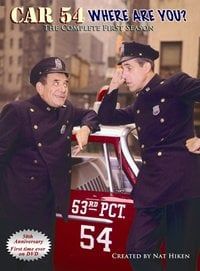 The slow migration of classic TV series to more modern formats continues with the news that the first season of Car 54, Where Are You? will be getting a 50th anniversary DVD release courtesy of Shanachie Entertainment. Chances are Car 54 was a bit before the time of most of our readership, but it's a show that inspired comedy legends like Carol Burnett and Carl Reiner, and which starred Joe E. Ross and Fred Gwynne a few years before The Munsters made him a certifiable pop culture icon. Oddly enough, fellow Munster-to-be Al Lewis was also in the cast.
You'll be able to pick the new set up on February 22nd, 2011. The new release has been remastered from the existing 35 mm prints and will include all 30 episodes of the show's first season. It also sports a new roundtable interview with some of the surviving cast. You can check out some stills from the show below, as well as an episode clip featuring the marvelously expressive Gwynne sans neck-bolts.
Image 1 of 9
Image 2 of 9
Image 3 of 9
Image 4 of 9
Image 5 of 9
Image 6 of 9
Image 7 of 9
Image 8 of 9
Image 9 of 9
Your Daily Blend of Entertainment News
Thank you for signing up to CinemaBlend. You will receive a verification email shortly.
There was a problem. Please refresh the page and try again.