Everybody Freak Out: The State Finally Has An Official Release Date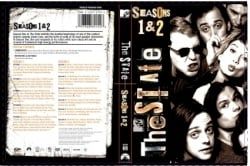 I am not going to lie to you, people. I may vomit. The day we've been waiting for for, have been teased about, and upon which many of us have given up hope of actually seeing, is finally here. The State, the best thing MTV has ever put its name on, has an official DVD release date.
State member Jo Lo Truglio hinted a few weeks ago that it was coming soon, but fellow member David Wain said on April 14 that, "there is still no official release date for The State MTV series DVDs."
Wain was singing a different tune on Twitter today, where he posted, "Hey guess what it's finally really happening!" A link to The State's official website followed, where the announcement video awaited:
So there you have it. July 19, 2009 is the day we've all been waiting for. The State complete series DVDs include full commentary on every single episode, and the 5-disc set features never-before-seen sketches and interviews. If you're a fan of The State, or just a general fan of stuff that is awesome, I highly recommend you get this DVD set: It'll be the best purchase you ever make.
Your Daily Blend of Entertainment News
Thank you for signing up to CinemaBlend. You will receive a verification email shortly.
There was a problem. Please refresh the page and try again.