Surf's Up: Blue Crush 2 Makes Waves On DVD And Blu-Ray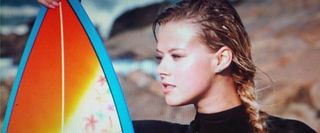 Universal Studios Home Entertainment has proudly, albeit prematurely, announced Blue Crush 2 for Blu-Ray, DVD, and digital release on June 7th. The film, which is a sequel to 2002's Blue Crush, will be set in South Africa for this round of surfing, girl power, and adventure.
Since there is no Kate Bosworth or Michelle Rodriguez in Blue Crush 2, the big pull for this film will be the crazy amount of professional surfers who appear. Roxy team surfers are especially highlighted in the press release, including Sally Fitzgibbons, Bianca Buitendag, Rosy Hodge, Tanika Hoffman, and Danielle Le Roux. These names don't end the lengthy list of women (and men!) involved. The rest of the involved surfers are: Laura Enever, Sarah Baum, Roxy Louw, Tarryn Chudleigh, Kirsty Delport, Mia Hordyk, Morag Steele and Heidi Palmboom, Jordy Smith, Taj Burrow,Travis Logie, Grant "Twiggy" Baker, Rudi Palmboom Sr., Casey Grant, Warwick Wright, Mikey February, and Andrew "Roosta" Lange.
If you aren't so into surfing that you know any of those names (I sure don't), perhaps you'll be interested in hearing about the special features. Blue Crush 2's DVD and Blu-Ray releases will come with a gag reel, along with deleted scenes, a "making of" featurette, and commentary. There will also be a segment called "Surf Safari" about the beauty, diversity, and other highlights of filming in South Africa. Finally, there will be a short called "Ripping It!" about the surf scenes in the film. The extras that are Blu-Ray exclusive are all technology-oriented, including Pocket Blu, BD-Live, and the like. There's something perverse about this straight-to-DVD movie having better special features than Point Break. Just saying…
Your Daily Blend of Entertainment News
Thank you for signing up to CinemaBlend. You will receive a verification email shortly.
There was a problem. Please refresh the page and try again.