First Ever Images From Battle: Los Angeles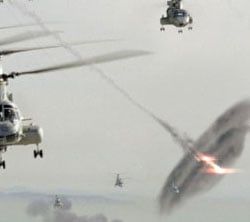 Sony has just released the first ever images from their upcoming, big-budget, alien invasion movie Battle: Los Angeles. They've only released 3 photos so far, with the promise of more to come later today. We'll have those as soon as they're available, in the meantime these should get you started.
The movie is exactly what it's title suggests it to be. Aliens invade and the battle happens in LA. The film follows a marine platoon as they battle their way through the city attempting to fight off the alien invasion. It's a massively scaled film, the effects should be bigger than anything you've ever seen.
Two of the three photos below are character close-ups, but pay careful attention to what's going on in the bottom right corner of the first one. Yep, that's your first look at one of the invading alien ships. Click the images below for an even closer look in high-res.
Aliens landing?
Aaron Eckhart in Battle: Los Angeles
Michelle Rodridguez in Battle: Los Angeles
Your Daily Blend of Entertainment News
Thank you for signing up to CinemaBlend. You will receive a verification email shortly.
There was a problem. Please refresh the page and try again.