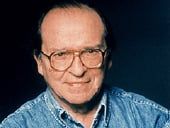 Sidney Lumet and his five Oscar nominations are on a bit of dry spell lately; one that has lasted about 20 years despite the release of a movie every couple of years. The guy who brought us Dog Day Afternoon, 12 Angry Men, Network, and Prince of the City has more recently given us Find Me Guilty, Critical Care, and Family Business. That doesn't mean Lumet is slowing down, though, he's got a new film deal.
Variety is reporting that Lumet will make at least two movies for Funky Buddah Group, including Getting Out, set for 2009. Lumet wrote the script for Getting Out about a man in prison who tries to breakout. He then ends up in another prison in the Dominican Republic with T-Bag and Captain Bellick. Oh wait, that's the wrong prison break story; in this one, the man is having problems with his prison psychiatrist.
The movie will begin filming in January. Funky Buddah is pretty new to movie production with only the barely released My Sexiest Year to its credit. Lumet is garnering good notices for this year's Before the Devil Knows You're Dead. It would be nice if this is a resurgence in his career. Otherwise, it might be time for him to hang up his director's chair.
Your Daily Blend of Entertainment News
Thank you for signing up to CinemaBlend. You will receive a verification email shortly.
There was a problem. Please refresh the page and try again.