Three Stooges Picture Gives First Clear Look At Larry, Curly, And Moe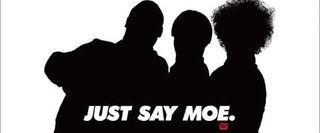 After being in development seemingly forever, we're finally six months away from the release of the Farrelly Brothers' big-screen Three Stooges. While we've known about the casting of the Stooges in question for a while now -- Chris Diamantopoulos is Moe, Sean Hayes is Larry, and Will Sasso is Curly -- we haven't gotten a clear look at the trio yet. Sure, there have been paparazzi shots and this teaser image, but not the full monty. Until now, that is. USA Today (opens in new tab) has landed the exclusive first look at all Three Stooges, which you can see below.
The image is basically a filled-in version of this poster, and there's no question that the guys look the part. The question is just what the hell a Farrelly Brothers Three Stooges movie is going to look like in 2012. We can get some hints here in this script review. Josh was mostly optimistic about the screenplay, but it remains to be seen how well even a good script can update the classic Stooges for modern audiences. Stooges fans will always have their DVDs of the originals, but can the Farrellys win them over with the neuvo-Stooges? And will anybody who isn't already a fan actually give a shit?
I guess we'll find out on April 4th, 2012, when The Three Stooges opens in theaters.
Your Daily Blend of Entertainment News
Thank you for signing up to CinemaBlend. You will receive a verification email shortly.
There was a problem. Please refresh the page and try again.