Celebrate Shrek The Halls With A Printable Coloring Page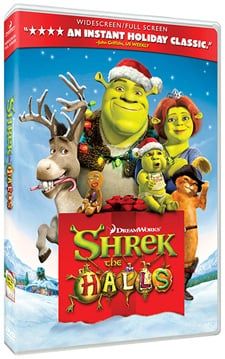 I never would have compared classic holiday special figures like the Peanuts gang or Rudolph and Hermey the elf with the fairy-tale-gone-wrong character of Shrek, but the ogre is definitely muscling in on the territory of those time honored specials. Shrek the Halls aired last year on ABC to great ratings. Now Shrek, Donkey, Fiona, and company are headed for DVD with their holiday celebration that DreamWorks is hoping will become an annual treat.
The studio is clearly not just banking on the jolly green giant's endeavor to celebrate his own kind of Christmas. They're also throwing in the Madagascar gang, who join Shrek on some of the bonus materials, encouraging kids to sing along with their own renditions of holiday classics.
The DVD hits stores November 4th, which will ensure plenty of viewing time between now and Christmas. Take a look at the bonus materials you'll find on the disc below. Oh, and, for your own entertainment, check out the printable coloring page of Shrek, Puss-in-Boots, Donkey, and more below that.
DVD Special Features
The Twelve Days of Christmas Sing Along—Join along and watch the entire Madagascar gang as they celebrate the holidays in style with their own take on the "Twelve Days of Christmas." Sing along to the Madagascar-inspired lyrics, including "lemurs leaping, foosas fussing and a penguin who made a loud squeak!" In classic sing-along style, the words appear on screen as the characters perform.
Deck The Halls Sing Along—"Deck the halls, it's time to party." This is your chance to sing along with everyone's favorite Penguins from Madagascar. Join Skipper, Private and Kowalski for their version of the classic holiday song as they get into the spirit of the season.
Gingy's Dunking Game—Test your skills at being a master baker and make sure you have plenty of flour as you try to match the Gingerbread cookies that come out of the oven with the Gingy that appears on screen.
Shrek Carnival Craze video game demo and cheat code
DreamWorks Animation Video Jukebox
Your Daily Blend of Entertainment News
Thank you for signing up to CinemaBlend. You will receive a verification email shortly.
There was a problem. Please refresh the page and try again.