Boondock Saints II Expands In Response To Fan Demand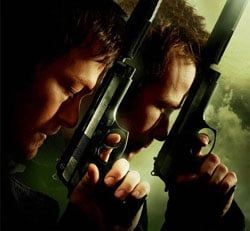 Boondock Saints II: All Saints Day opened in an extremely limited release on the coasts this past weekend, and middle America fans left out in the cold responded by taking to the internet and demanding it. That seems to have paid off, since Apparition has just announced that the film will expand into additional markets on November 13. A complete list of new openings is still to come, but we know that at the least All Saints Day will expand to Seattle, San Francisco, San Diego, Chicago, Detroit, Dallas, Atlanta, and Houston.
The only oddity here is that, despite a lot of interest from fans, Boondock Saints didn't exactly burn up the box office last weekend in the few places it was playing. It managed an $8,000 per screen average but, for a limited release, that's not actually all that impressive. And then there's the reviews which have been, sadly, almost universally negative. Even the few hardcore fans who saw it seemed somewhat disappointed. Now at least we'll all have a chance to check it out and pass judgment ourselves.